Duplicating
Photo Copying Was a Good Idea
In the beginning, schools had very few printing choices: you either sent your handouts and newsletters to mimeo rooms or to press rooms. Then the convenience photocopier came into the market. Schools could now copy handouts, newsletters, and other printed materials.
PHOTOCOPIERS HAVE LIMITATIONS
Schools found out the limitations of photocopying.
High service costs
Only prints in one color; black (unless you purchase an expensive color copier)
Limited to using specific paper sizes and weights
Prone to breakdowns; especially when you have an important deadline
No economies of scale with a photocopier; you pay the same price per copy whether you make 1 copy or 1,000 copies
Few photocopiers can be interfaced with a computer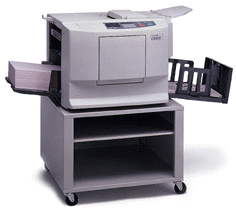 THE CURE FOR COPIER PROBLEMS: THE RISOGRAPH
Risography, or digital duplicating, scans the image and prints thousands of copies. It is a heatless process that is extremely fast, reliable, and easy to use. The Risograph prints for as little as a third of a cent per page, helping your school reduce copying and printing costs. FIVE WAYS THE RISOGRAPH CAN HELP YOUR SCHOOL.

1.) STRETCH YOUR MONEY WITH RISOGRAPH You can make 10 copies on the Risograph for what it costs to make one copy on your copier. The Risograph lowers your service costs by 50%. These savings can be used on other projects, stretching your schools money even further.
2.) PRINT DIRECTLY FROM YOUR COMPUTER Increase your creativity by connecting the Risograph to your PC or MAC. Energize your handouts by adding graphics and print directly to the Risograph.
3.) CREATE YOUR WORK FASTER At 120 copies per minute, the job will get done faster with the Risograph. You can print 1,000 handouts front and back in less than 30 minutes and no more copier blues!
4.) PRINT ON A VARIETY OF PAPER SIZES AND STOCKS The Risograph allows you to print on paper stocks ranging from 14lb. Newsprint to 110lb. Card stock on sizes from 4 x 6 to 11 x 17, including recycled stock.

5.) BRIGHTEN YOUR WORK WITH COLOR You can choose from 18 different ink colors that will energize your printed materials; for the same price as black!


Standard Duplicating is proud to provide the complete PK-12 solution for formative and summative assessment.
All the software and hardware you need for faster more accurate assessments.
The Data-Tools software product along with the HC5500 Riso Printer creates a user friendly solution for high speed color printing and scanning capabilities delivering complete, effective, and affordable ways to prepare students for mandated testing.

RISO Data Tools Click Here for More Info